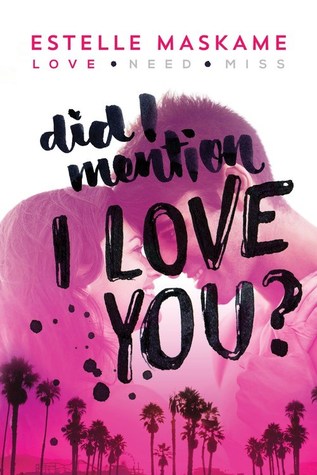 Title: Did I Mention I Love You?
Series: The DIMILY Trilogy #1
Author: Estelle Maskame
Published: 01/12/2015, Sourcebooks Fire
Pages: 416
Source: Netgalley & Sourcebooks Fire
Format: Ebook

Rating: 4.5/5

"Love is everything but expected.

Eden Monro came to California for a summer of sun, sand and celebrities what better way to forget about the drama back home? Until she meets her new family of strangers: a dad she hasn't seen in three years, a stepmonster and three stepbrothers.

Eden gets her own room in her dad's fancy house in Santa Monica. A room right next door to her oldest stepbrother, Tyler Bruce. Whom she cannot stand. He's got angry green eyes and an ego bigger than a Beverly Hills mansion. She's never felt such intense dislike for someone. But the two are constantly thrown together as his group of friends pull her into their world of rule-breaking, partying and pier-hanging.

And the more she tries to understand what makes Tyler burn hotter than the California sun, the more Eden finds herself falling for the one person she shouldn't..."
This book has totally redeemed Contemporary YA for me! Lately, I've been struggling to find a Contemporary that I have rated over 3 and DIMILY just broke that cycle! It was almost love.
Of course, being a contemporary YA, it still deals with many similar issues as others but this story just felt like a breath of fresh air. It took many issues, i.e. love, drugs abuse, child abuse etc. and puts a brand new (to me) twist on them. Not only did DIMILY deal with these complex issues in a brilliant way, but there was also a lot of fun to the story too. And this book had me close to tears too. It is an emotional rollercoaster.
DIMLY is told via the first-person perspective of Eden. We get a real feel for her awkward relationship with her dad and his new family and her annoyance and confusion over Tyler. The story is somewhat predictable, but it's still different so I didn't mind this as much. There are still twists to the story and I was never 100% sure what would happen. The ending is climatic and everything comes to a head. The story ties up nicely and is complete but still leaves scope for continuation.
I really enjoyed the characters. Eden is your typical YA protagonist, but there is just something about her that I love so much more. She is just really relatable. She kind of gets dragged along or tags along to everything, whether she wants to or not, and in a way I think many people can relate to this. I certainly do. And like many teens, she struggles with her weight and appears to have a "milder" eating disorder. She is extremely careful with what she eats and is very much aware of fatty foods, but she also doesn't eat much which is worrying. This clearly shows the damage that peer pressure can do to a teenager.
I really liked Taylor. He is your typical damaged, young boy with a dark secret. And I just wanted to give him a hug. He suffers from anger issues and is hooked on drugs and, to be honest, it's really no wonder with his past (not that it's an excuse mind you). I'm surprised he doesn't receive more support from his mum (and the rest of the family), although I think she may feel out of her depth. When Taylor isn't angry and drunk, he is honestly such a sweet boy too. Especially with when it comes to his little brothers.
It's such a shame that Eden and Taylor are step-siblings. I was hoping (and still am) for their parents to announce a separation but, of course, nothing is that easy in YA and I'm really not expecting it to happen.
I really liked Eden's relationship with the younger brothers. She really begins to see them as her own brothers and it's lovely to see this happen. The same thing happens with her step-mum and they become quite close.
One character I absolutely loathed was Tiffani. She is just so self-centred and is an uncaring bitch. She is constantly "embarrassed" by Taylor, but never stops to think of why he is the way he is or try to help him. She is such a manipulative bitch! But she really is a great addition to the story.
I'd definitely recommend Did I Mention I Love You? to fans of contemporary YA. I thought it was really quite unique and I didn't expect to like it as much as I do, but it's just a brilliant story. I can't wait to read the next instalment, Did I Mention I Need You?. I need to know what happens next! Estelle Maskame is a beautiful writer and I can't believe she is so young!
Follow me via Goodreads, Facebook, Twitter, Bloglovin and Pinterest.

Feel free to leave a comment.