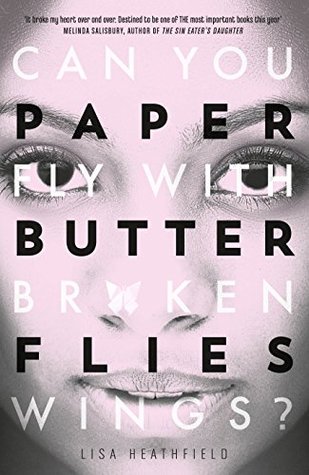 Title: Paper Butterflies
Author: Lisa Heathfield
Published: 30/06/2016, Electric Monkey
Pages: 312
Source: Netgalley
Format: Ebook

Rating: 5/5

"June's life at home with her stepmother and stepsister is a dark one – and a secret one. She is trapped like a butterfly in a net.

But then June meets Blister, a boy in the woods. In him she recognises the tiniest glimmer of hope that perhaps she can find a way to fly far, far away from her home and be free. Because every creature in this world deserves their freedom... But at what price?"
Paper Butterflies
is emotionally one of the hardest books I have ever read. It is the story of June, a girl who is physically and mentally abused by her step-mother. It is truly heartbreaking. This book made me cry so much. And I just couldn't put it down. I read this book so quickly, purely hoping that it would get better for June.
Paper Butterflies
is told from June's point-of-view and alternates between the past and present as June tells her story. This was a perfect way to show the level of horrifying abuse June went through and the emotional impact this has on the rest of her life. The abuse starts right from page one so the reader truly is thrown in the deep end. This story honestly left me feeling winded. I was speechless. June's pain is just so raw and I just wanted to jump in the book and take her away to safety.
June's best friend, Blister, is a fantastic character. He is adorable and I love how he never gives up on anything. His kindness is a stark contrast to the cruelty in June's life. He shows her that it is possible to be happy. All Blister wants to do is help her and it frustrates him that he can't do more for her.
June's step-mother is a revolting character. She truly made me feel sick to my stomach. How can anyone do what she did to a child? I also hate that Megan, the step-sister, never spoke up and just watched the horrific abuse happen. Surely it affected her in some way too. It also frustrates me that June's own dad never noticed the abuse. Just, how?
I didn't find
Paper Butterflies
predictable at all. Sure I knew something big was going to happen, but I just had no idea what it would be. The ending is just heartbreaking. I had tears streaming down my face from 80% onwards and I just couldn't stop them. However, the one thing that annoyed me slightly was the open ending. I wish it was just a bit more final. Though I loved that it gave out a message of hope for June.
I wouldn't say I enjoyed
Paper Butterflies
per se (it's just so horrific), but I will say that it is definitely one of the best books I have ever read. I don't know if I could ever put myself through reading this again, but I would definitely recommend this book to absolutely everyone.
Follow me via Goodreads, Twitter, Bloglovin, and Pinterest.

Feel free to leave a comment.