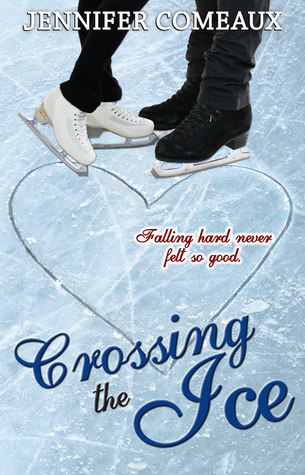 Title: Crossing the Ice
Series: Ice #1
Author: Jennifer Comeaux
Published: 07/08/2014, Jennifer Comeaux
Pages: 308
Source: Netgalley
Format: Ebook

Rating: 5/5

"Falling hard never felt so good.

Pair skaters Courtney and Mark have one shot left at their Olympic dream. They vow not to let anything get in their way, especially not Josh and Stephanie, the wealthy and talented brother and sister team.

The heart doesn't always listen to reason, though…

The more time Courtney spends with sweet, shy Josh, the harder she falls for him. But they are on opposite sides of the competition, and their futures are headed in opposite directions. Will their friendship blossom into more or are their paths too different to cross?"
I think I'm in love...
Crossing the Ice
feels like it was made for me! Figure skating and romance... who could ask for more. I adore this book.
Crossing the Ice
is told in the first-person perspective of Courtney and it's brilliant to hear about figure skating from the point of view of the person doing the skating. I learnt so much! The writing and story are both simply beautiful. The pace is perfect and I marathoned the whole book in two days. I was just desperate to know of Courtney and Josh could be together and if they would be successful in following their Olympic dreams.
The last few chapters were such a rollercoaster of emotions. First, there were tears of heartbreak for Courtney and, then, tears of absolute happiness. It was brilliant. I truly felt for both Courtney and Josh and I wish everything was easier for them.
I adore Courtney. She takes part in the only sport I would ever be interested in taking part in and this just had me hooked from the very start. And she's pretty damn amazing at it. It is her dream to compete in the Olympics and I was really praying for her. She's not big-headed about her talent either (unlike Stephanie) which is brilliant and strives to be better. I can totally relate to her need to prove herself.
Josh is just perfect. Unlike so many other love interests, he isn't cocky! Instead, he is rather shy and quiet. In a nutshell, he's adorable. I want my own Josh! I could see myself getting on so well with him. He also has the patience of a saint to put up with his bitchy sister, Stephanie. He deserves an Olympic medal just for that. And he is so cute with Courtney.
I absolutely loved everything about
Crossing the Ice
. It makes me want to dig out my skates and start lessons again (and they didn't go that great first time around either). I need to find more books about figure skating now and I cannot wait to dive into more Jennifer Comeaux books.
Follow me via Goodreads, Facebook, Twitter, Bloglovin and Pinterest.

Feel free to leave a comment.