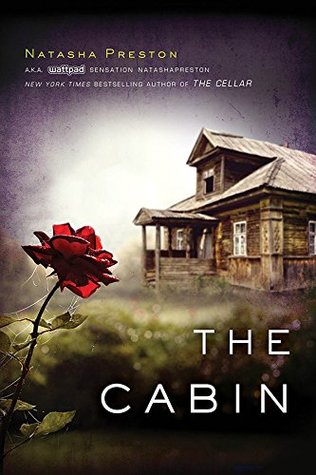 Title: The Cabin
Author: Natasha Preston
Published: 06/09/2016, Sourcebooks Fire
Pages: 336
Source: Netgalley
Format: Ebook

Rating: 3/5

"There may only be one killer, but no one is innocent in this new thriller from Natasha Preston, author of The Cellar and Awake.

When Mackenzie treks to a secluded cabin in the woods with six friends, she expects a fun weekend of partying, drinking, and hookups. But when they wake to find two of their own dead and covered in blood, it's clear there's a killer among them.

As the police try to unravel the case, Mackenzie launches her own investigation. Before long secrets start to emerge, revealing a sinister web of sins among the original seven friends. The killer is still free. Every one of them is a suspect. And Mackenzie starts to realize that no one is innocent…"
The Cabin
was an enjoyable read. Not quite what I was expecting but it held my attention all the same. It's both an easy and a quick read so it's perfect as an introduction into the mystery/suspense genre, especially for young adults.
I did like MacKenzie. She is just so loyal to her friends and I felt sorry for her. She sees the best in everyone, even when the evidence contradicts this. However, on a similar note, I found her far too optimistic and naive - sometimes verging on stupid.
I also quite liked Blake and I probably felt sorry for him the most. Sure he's a bit cocky and full-of-himself, but to me that was just a cover over his family problems. I did think he was only there the majority of the time as the number one suspect though because he is the outsider.
The other characters were all decent enough, but I don't really feel like you get to know them too well. This is maybe to make the reader more suspicious of them.
The story is told from MacKenzie's point-of-view. Therefore, we know she isn't the killer, but it was great seeing her slowly become suspicious of everyone. The reader is thrown right into the mystery and only finds out the truth as MacKenzie does, which is a great way to keep you reading.
I don't think
The Cabin
was too predictable at all. I was suspicious of all MacKenzie's friends at some point - they all have motives (even is some of them are questionable). And I didn't expect the plot twist near the end either. I thought the plot was fairly fast paced, but there were parts that did drag ever so slightly.
The ending did annoy me though (and is why I gave
The Cabin
a 3 instead of a 4). It was left far too open for my liking and kind of ruined the story for me. I like my mysteries to end with more finality. However, it was still pretty climatic and I couldn't put it down. I just want to know what happened!
I enjoyed
The Cabin
. I think it's a great introduction for teenagers wanting to read more mystery. And I definitely think it's a book many teenagers would enjoy (from my own experience anyway).
Follow me via Goodreads, Twitter, Bloglovin, Instagram, and Pinterest.

Feel free to leave a comment.