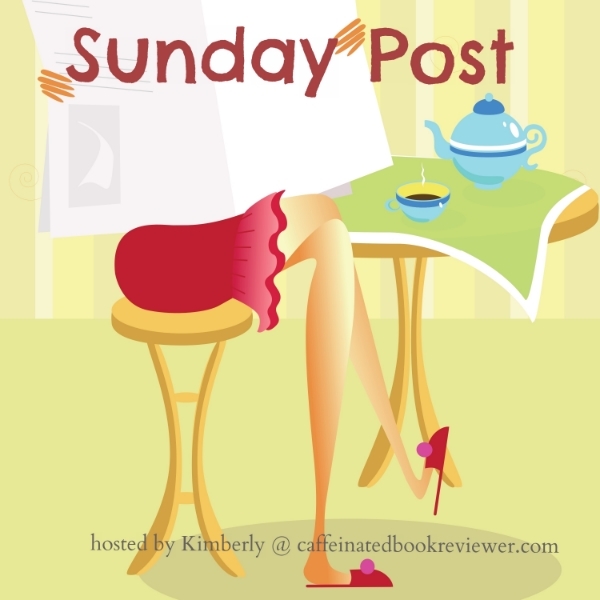 The Sunday Post is a weekly meme hosted by Kimberly of Caffeinated Reviewer. It's a chance to share news. A post to recap the past week on your blog and showcase books and things we have received. Share news about what is coming up on our blog for the week ahead.
It's been quite a busy week this week. I started off with a broken washing machine so that was a bit of a nightmare. Especially because we've had fantastic weather here for getting clothes dried. It had a jam in the pump filter and I couldn't even get it unscrewed to unjam it. Thankfully my dad came round with a pair of pliers and managed to get it undone. Turns out my washing machine decided to swallow a couple of Colour Catchers... I'm just glad it didn't need an expensive fix.
The nice weather has also meant I have spent a lot of time outside this week painting fences and sheds. I don't mind painting when I have a good audiobook or even music on, but my fence has crisscrosses that a really awkward to paint and it just takes so long and is so hard to get into all the crevices! Give me some bog-standard picket slats any day and I will paint for as long as needed.
I also went to the pub quiz with my dad again this week and we got 20/40 which isn't bad for just two of us but not as good as last week. Hopefully, my mum can join us again next week as she sometimes knows the answers to the odd questions from reading the newspaper.
This Week on the Blog
I'm just going to post as and when I can for the moment.
What I Read Last Week
Currently Reading
What I Plan to Read This Week
Book Haul
Currently Watching
I couldn't stop thinking about The Handmaid's Tale after I finished the book so naturally I started watching the show. I've just finished episode 5 of season 1 (at time of writing this... I may be binging it...).
Currently Listening To
I've had Under Pressure by Queen in my head since the pub quiz. It was the answer to: What 1980s hit has the lyrics "It's the terror of knowing what this world is about, Watching some good friends screaming let me out"? And we got this one right.