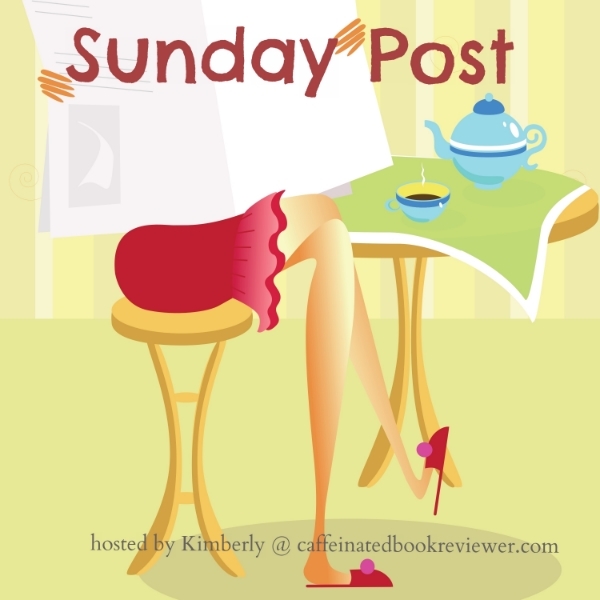 The Sunday Post is a weekly meme hosted by Kimberly of Caffeinated Reviewer. It's a chance to share news. A post to recap the past week on your blog and showcase books and things we have received. Share news about what is coming up on our blog for the week ahead.
This week was an odd one. I had Jury Duty and ended up being chosen as a substitute juror. So on Tuesday, I had to go to a cinema in the nearest city as jurors are being video-linked into court proceedings to maintain social distance. It was very weird going into "court" to movie theme songs. I wasn't needed past the initial introduction of the case due to being a substitute so I did get to leave again just before lunchtime. However, I have had to be accessible by phone to them most of the week.
I also continued to spend a lot of time painting outside again. I have a lot of fencing that needs to be done badly and my garage and shed also need touching up. It's taking forever, but at least I'm getting to fire through my audiobook at the same time.
On Thursday, I went to the weekly pub quiz with my parents and we got 24.5/40 which wasn't too bad. There were a lot of tricky questions this week.
Now I have a question for everyone - how do you follow other blogs? Before I went on my hiatus back in 2018 I used Bloglovin, but now I'm finding it just so unpredictable! Half the time I get a message to say the servers are too busy. So any advice for what you do would be fab, because I really want to get back into hopping around everyone's blogs again.
I've also attempted a new follow by
email
provider as I've noticed that Feedburner is another thing that is being discontinued. I'm starting to wonder if it will be easier to just try and move my blog over to a free WordPress blog (not sure if I'm quite at the stage where I want to self-host) as more and more things become discontinued on Blogger. Has anyone done this and how easy did you find it?
This Week on the Blog
I'm just going to post as and when I can for the moment.
What I Read Last Week
Currently Reading
What I Plan to Read This Week
Book Haul
Currently Watching
I'm still in my binge-watch of The Handmaid's Tale. At the time of writing this I' away to start season 3 which isn't bad when I only start watching it a week past Friday. It's safe to say I'm completely hooked"
Currently Listening To
This links into my binge-watch of The Handmaid's Tale. I've had This Woman's Work by Kate Bush stick in my head ever since that episode. I was bawling my eyes out watching it and it's such a beautiful song.