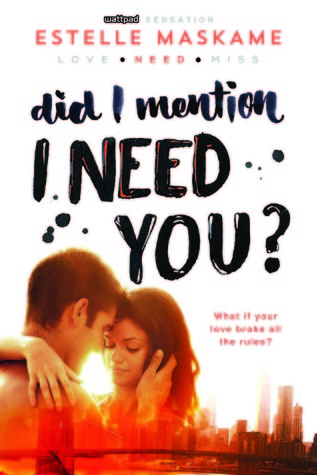 Title: Did I Mention I Need You?
Series: The DIMILY Trilogy
Author: Estelle Maskame
Published: 01/03/2016, Sourcebooks Fire
Pages: 384
Source: Netgalley
Format: Ebook

Rating: 3/5

"Love has no rules.

It's been a year since Eden Munro last saw Tyler Bruce: her stepbrother...and secret love. Although they swore to ignore their feelings and put their family first, Eden can't help but feel excited when Tyler invites her to join him in New York City for the summer.

But it's not like anything is going to happen. Eden is happy with her boyfriend Dean, and she knows gorgeous, green-eyed Tyler must have moved on as well. But as they spend the long, hot summer in the city that never sleeps, it becomes obvious that those old feelings are still there...simmering beneath the surface. Will Tyler and Eden be able to resist temptation?

Did I Mention I Need You? is book two in Wattpad sensation Estelle Maskame's DIMILY trilogy: three unforgettable summers of secrets, heartbreak and forbidden romance."
Did I Mention I Need You?
(
DIMINY
) begins two summers after
Did I Mention I Need You?
(
DIMILY
). Tyler is almost finished his year in New York and Eden is going to stay with him before she starts College. If that doesn't set off alarm bells in your head I don't know what will!
The story is once again told from the first-person perspective of Eden. I didn't feel that her story was as predictable as it was in
DIMILY
as there was definitely no way that you can predict the character's reactions. However, I felt that
DIMINY
was a bit slower in pace. I felt that a lot of the story was just a tour around New York. But when things got going (around 50%), they really got going and the pace definitely picked up. And the ending was just so painful to read. I mean, why? Just why? I need more. It was so cruel and unnecessary!
I'm not too sure what I make of Eden this time around. I just couldn't warm to her as much as I did in
DIMILY
. She is still the same Eden, but she's sort of more ingrained into her new life. She's no longer the outcast. In a way, she's more mature, but when it comes to relationships and other feelings she is still very immature.
However, Tyler has matured a lot in the two years since we last saw him. He's a lot more easy-going and even-tempered now. He's clearly learnt and grown up a lot during his time in New York. However, he is still pretty irrational - a certain tattoo springs to mind. But it's clear how much he still loves Eden and is desperate for them to be together.
I did enjoy
Did I Mention I Need You?
, but not as much as
Did I Mention I Love You?
. There was just something missing and the story dragged more. However, I would definitely still recommend it to fans of
DIMILY
as it is still an enjoyable continuation to Eden and Tyler's story. I also look forward to finding out what happens next in
Did I Mention I Miss You?
, the final book in the trilogy.
Follow me via Goodreads, Facebook, Twitter, Bloglovin and Pinterest.

Feel free to leave a comment.