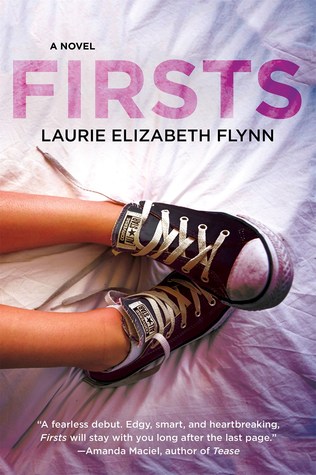 Title: Firsts
Author: Laurie Elizabeth Flynn
Published: 05/01/2016, St. Martin's Griffin
Pages: 320
Source: Netgalley
Format: Ebook

Rating: 4/5

"Seventeen-year-old Mercedes Ayres has an open-door policy when it comes to her bedroom, but only if the guy fulfills a specific criteria: he has to be a virgin. Mercedes lets the boys get their awkward, fumbling first times over with, and all she asks in return is that they give their girlfriends the perfect first time- the kind Mercedes never had herself.

Keeping what goes on in her bedroom a secret has been easy- so far. Her absentee mother isn't home nearly enough to know about Mercedes' extracurricular activities, and her uber-religious best friend, Angela, won't even say the word "sex" until she gets married. But Mercedes doesn't bank on Angela's boyfriend finding out about her services and wanting a turn- or on Zach, who likes her for who she is instead of what she can do in bed.

When Mercedes' perfect system falls apart, she has to find a way to salvage her reputation and figure out where her heart really belongs in the process. Funny, smart, and true-to-life, FIRSTS is a one-of-a-kind young adult novel about growing up."
When I first heard of Firsts, I was completely intrigued. This book shouldn't really work so, of course, I had to read it. And let me tell you, although not perfect, Firsts totally works.
Firsts is completely original to anything I have read before. It was damn near perfect. It deals with the topic of sex so well, something that rarely happens in YA books (which I actually find quite strange).
The story itself may be a bit far-fetched, but who cares its fiction! And it gets people thinking which is a must in any book. Sex isn't exactly a taboo issue but it's not really explored much in YA fiction. And, of course, it's not like it isn't happening.
Firsts is told via the first person perspective of Mercy. Mercy is a protagonist I didn't expect to like as much as I did. But she just wanted to help others - in her own strange way. However, she is very naive to think that no-one would find out the truth. Even boys talk. It's inevitable that the sh*t would hit the fan sooner or later.
Mercy does have a really great relationship with both Faye and Zach. They both completely understand what she needs before she even realises herself. And they stick by her when others wouldn't. I do feel sorry for Zach as it's obvious that he's in love with Mercy. Their relationship was another unconventional one, but I really liked them together.
I wasn't too sure about Mercy's best friend Angela. She seems a bit too uptight for Mercy and they don't appear to have much in common.
I'd say Firsts is pretty predictable. As I said, it's inevitable what would happen. There wouldn't really be much of a story if it didn't happen. But what isn't so predictable is the way Mercy handles herself. It's what kept me reading and really pulled me in. Firsts isn't a story with twists and turns, but there was one twist that I didn't expect and this really helped Mercy along.
Most major threads are tied up nicely. However, I would have liked to see a bit more of Mercy's dad. All of a sudden he's there and then the story moves on. Really, it didn't bring anything to the story, though.
Although it shouldn't have been, Firsts is a really enjoyable read. I would definitely recommend it to fans of contemporary YA. I'm also definitely going to check out Laurie Elizabeth Flynn's other books.
Follow me via Goodreads, Facebook, Twitter, Bloglovin and Pinterest.

Feel free to leave a comment.