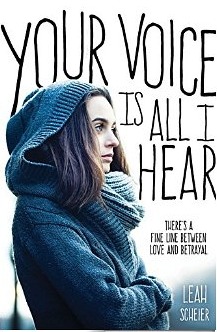 Title: Your Voice Is All I Hear
Author: Leah Scheier
Published: 01/09/2015, Sourcebooks Fire
Pages: 336
Source: Netgalley & Sourcebooks Fire
Format: Ebook
Rating: 4.5/5
""I was the one he trusted. I was the one he loved, the only one who believed him, even when his own mother had locked him up and thrown away the key. And now, I was going to pass down the white tiled hallway, knock on his doctor's office door, slam his secret notebook on her desk and make her read it, make her understand what he was hiding, make her see what only I had seen."
April won't let Jonah go without a fight. He's her boyfriend - her best friend. She'll do anything to keep him safe. But as Jonah slips into a dark depression, trying to escape the traumatic past that haunts him, April is torn. To protect Jonah, she risks losing everything: family, friends, an opportunity to attend a prestigious music school. How much must she sacrifice? And will her voice be loud enough to drown out the dissenters -and the ones in his head?"
This book. This BOOK! If there is one YA mental health book that needs to be read this is it! I haven't really read any other mental health-related books however from what I can gather from other reviews Your Voice Is All I Hear is up there with the best.
The setting feels very real and relates so well to both the characters and the plot. It shows that schizophrenia can affect anyone at any age. Your Voice Is All I Hear highlights the illness and secondary problems that can go with it so well, i.e. stigma and bullying of not only the sufferer but also loved ones. I loved that Your Voice Is All I Hear was not told from the perspective of the sufferer, Jonah, but that of a loved one, April. We not only see Jonah's struggles but also April's as she tries to come to terms with and understand Jonah's illness. We don't always think about how loved ones are affected, but Your Voice Is All I Hear highlights this beautifully. I don't think the story is predictable at all really which I think is good because who can really predict how schizophrenia can affect an individual. I also both loved and hated the ending - it was just so beautifully poignant.
I really liked April. She is a bit of a loner with very few friends as she can't handle social interactions well (leading to a few comical moments). This is probably why she attaches herself to Jonah so quickly when he takes an interest. However, she really does try to interact and the in itself is very admirable - brave even especially in terms of her history project. April is also extremely admirable in the way that she keeps standing by Jonah when he is in the hospital. The sad truth is that I don't think many 15-year-olds would be able to deal with this for so long in the way that April did, mainly due to the stigma attached to schizophrenia. It just goes to show how loyal April is to Jonah and how much she really loves him.
I loved Jonah. He is just so sweet and caring and probably the perfect boyfriend. He is also incredibly supportive towards April, even when he knows he can't go to art school with her. When Jonah's schizophrenia is finally revealed and written about in such beautiful detail it just broke my heart. I wanted to jump into the story and be there for Jonah myself. I'm not going to write too much about Jonah as I don't want to reveal spoilers.
Your Voice Is All I Hear is just so beautifully written and I learned so much about schizophrenia that I would recommend it to everyone, particularly teenagers. It is truly a beautiful way to open one's eyes to mental illness and it will cause tears. I can most definitely say that I will read more of Leah Scheier's writing and I'm possibly going to buy my own paperback copy of Your Voice Is All I Hear (it's just so good).
COYER Scavenger Hunt #29: Read a book with no magical or futuristic elements.
Follow me via Goodreads, Facebook, Twitter, Bloglovin and Pinterest and also via email to myexpandingbookshelf@gmail.com.

Feel free to leave a comment.