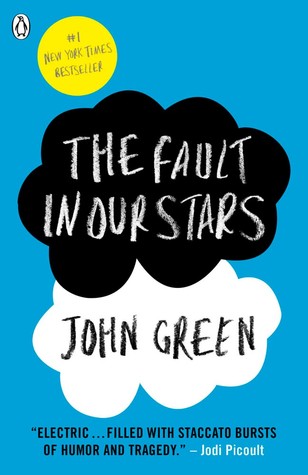 Title: The Fault in Our Stars
Author: John Green
Published: 03/01/2013, Penguin Books
Pages: 318
Source: Bought
Format: Paperback

Rating: 4/5

"Despite the tumor-shrinking medical miracle that has bought her a few years, Hazel has never been anything but terminal, her final chapter inscribed upon diagnosis. But when a gorgeous plot twist named Augustus Waters suddenly appears at Cancer Kid Support Group, Hazel's story is about to be completely rewritten.

Insightful, bold, irreverent, and raw, The Fault in Our Stars is award-winning author John Green's most ambitious and heartbreaking work yet, brilliantly exploring the funny, thrilling, and tragic business of being alive and in love."
So after
The Fault in Our Stars
sitting on my bookcase for the better part of two years, I finally read it. And I can also say that I understand what all the hype is about.
The Fault in Our Stars
is such a beautifully poignant story that you can't help but keep reading. Cancer is an extremely heavy subject to read/write about but this was written in such a wonderfully beautiful way which makes it so much easier to read.
The characters are so well-written.
The Fault in Our Stars
is told from Hazel's point of view and her strength is just beyond belief. I love that her character is honest about her situation. She knows she's going to die, has accepted the fact and at times, when everything gets too much, welcomes it. Her situation is not romanticised at all which makes it all the more perfect. I also love that she has managed to keep hold of her humour, even if it is quite snarky at times. My heart just truly broke for her.
Augustus is just wonderful. Like Hazel, he has been through so much yet still manages to focus on the positive things in life. He is extremely selfless too. You only have to look at how he treats Hazel and Isaac to see it. He wants his friends to be as happy and comfortable as they can be whilst suffering such horrendous illnesses. He also has brilliant banter with them and made me chuckle so much.
However, Isaac is the character I wanted to hug the most. What he goes through is just so incomprehensible. Especially for someone so young. It's no wonder he has so many breakdowns. He must feel so lost all the time. But, I love how he slowly begins to come to terms with his situation and finds ways to deal with it. And, a certain scene with eggs is just brilliant and I'm sure it helped him release so much pent up frustration.
I would say
The Fault in Our Stars
is pretty predictable. I mean it's a book about terminal cancer, therefore, the chances of it being a happy ending were slim to none. The ending not only rips your heart out but stomps and dances on it too until there's nothing but a shivering mess left. However, although you know you will be a bubbling crying wreck by the end, it's impossible to put down. You just get immersed into it and I zoomed through it in a day.
The Fault in Our Stars
is a wonderful, sad realistic story about what it's like to live with cancer. I would definitely recommend it to everyone as everyone has been affected by cancer in one way or another. I can also say I will definitely be reading more by John Green too.
Follow me via Goodreads, Facebook, Twitter, Bloglovin and Pinterest.

Feel free to leave a comment.