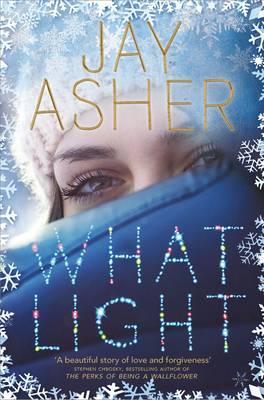 Title: What Light
Author: Jay Asher
Published: 20/10/2016, Macmillan Children's Books
Pages: 256
Source: Netgalley
Format: Ebook

Rating: 3/5

"Sierra's family runs a Christmas tree farm in Oregon - it's an idyllic place for a girl to grow up, except that every year they have to pack up and move to California to set up their Christmas tree lot for the season. So Sierra lives two lives: her life in Oregon and her life at Christmas. And leaving one always means missing the other. Until this particular Christmas, when Sierra meets Caleb, and one life begins to eclipse the other..."
What Light
is a nice, quick, Christmassy read that I just couldn't put it down. It's a very sweet and happy story, so totally different to Jay Asher's hard-hitting debut
Thirteen Reasons Why
.
There is only one word to describe the setting in
What Light
- magical! It's set on a Christmas tree lot (something we don't have in the UK) but from my limited experience of seeing them in movies, I felt it was very realistic.
Sierra and Caleb are both likeable characters, however, I don't think they are very memorable. And as the book covers the short period of four weeks, I felt their romance was extremely quick and quite insta-love like. But I can totally forgive because it's Christmas!
I didn't quite warm to Sierra friends, either back home or at the Christmas tree lot. They were all quite needy. I mean Sierra was only going away for a month! However, I thought Sierra's parents were lovely and had such an admirable (if a bit protective) relationship with their daughter. It's nice seeing a happy family in a YA contemporary.
What Light
is told from Sierra's perspective and I thought this was lovely as it added more personality to the Christmassy feel to the story. It just brings out the Christmas spirit in the reader, especially with all the talk of Christmas traditions. I would say that the story isn't the most exciting and it is pretty predictable, but again it's just so full of Christmas that it makes you smile regardless.
What Light
is a wonderful Christmas read that I would definitely recommend to fans of YA Contemporary and especially to Christmas-fiends. It's another great story by Jay Asher.
Follow me via Goodreads, Twitter, Bloglovin, Instagram, and Pinterest.

Feel free to leave a comment.