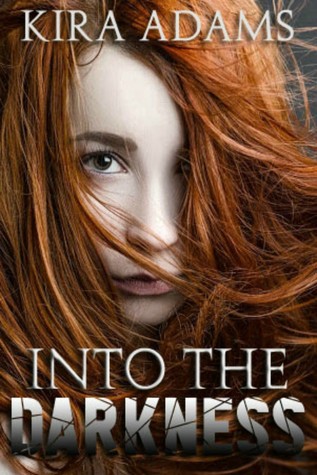 Title: Into The Darkness
Series: Darkness Falls
Author: Kira Adams
Published: 2014
Pages: 185
Source: Freebie via Amazon
Format: Ebook
Rating: 4/5
"It was supposed to be a way to end the devastation in the Middle East, but instead a darkness has been unleashed unlike anything the world has ever seen. Ike Glass is well versed in chaos, but even he is unprepared for what the world will become after the outbreak. Ace Cullen has been loyal to his country ever since he was brought to the United States as a young boy,but it is difficult to stand by a country that can't even take responsibility for their own actions. Phoenix Blue just wants a night of mindless sex... is that too much to ask? Always a black sheep, she shocks everyone as she finds the strength inside herself to protect the ones she cares about and fight to see another day. They were strangers when the virus took over, but tragedy will bring them together in ways they never thought possible as they descend into the darkness."
I really enjoyed Into The Darkness. Right from the very first page you are thrust into the action. It's a fairly fast-paced book with a lot happening in the 185 pages and even a few twists along the way. It wasn't bored at all whilst reading. The story is told mainly through Phoenix, however there are also chapters where the narration shifts to Ike or Cullen. This means that you really get a better insight into each of the characters. They are also all fairly likeable.
Phoenix (I keep wanting to type Phoebe for some reason) goes through a lot in the first few chapters alone. First her family turn into zombies and try to eat her (leading to her killing her dad and brother). Then she finds out she was adopted. She is a very kick-ass character and travels through various US states (I'm not good at US geography - hell, I'm not very good at UK geography to be honest) fighting zombies and degenerates (released prisoners) to find her sister. She is very protective of her sister, probably because there is such a big age gap between them. I also like how Adams doesn't rely to much on Phoenix's love life and the subsequent love triangle that begins to form. However, she can be quite heartless - she leaves her uncle to the mercy of her zombie mum. She is also quite cruel to Harlan. Harlan is one of the characters I felt sorry for. He clearly likes Phoenix yet she barely gives him the time of day because he isn't her usual type. However, she did start to thaw towards him. I just wanted a happy ending for Harlan!
However, Ike's the character I felt the sorriest for. He witnesses not only the beginning of the zombie apocalypse but also his wife and little girl becoming zombies too. That must have totally destroyed him inside to see his little girl turn into something so horrifying. I feel that Ike just wants to survive and see the world put to rights again. Although of course he can also be quite sneaky.
I feel that Cullen is the character we know least about. Mainly because there aren't many chapters from his viewpoint. I hope we learn more about him in the sequel.
Oh! and the cliffhanger! God, I couldn't believe it! I just wanted to keep on reading! I can't wait to read the sequel now.
One downside (which is literally teeny-tiny) is that in a couple of places there was missing punctuation. However, that can be fixed and it didn't detract from the story at all.
Overall, I thoroughly enjoyed Into The Darkness. I can't wait to read the sequel, Emerging from Darkness. This is only the second book of the genre that I have read (Warm Bodies being the other) and they're both so different. I can see myself exploring further into the genre now. I would recommend Into The darkness, probably, mainly to young women interested in the zombie genre. I'm not sure if men would like the book as much but I could be wrong (I don't know many men that read).
Follow me via Goodreads, Facebook, Bloglovin and Pinterest (though I'm not very good at using it) and also via email to myexpandingbookshelf@gmail.com.

Feel free to leave a comment.