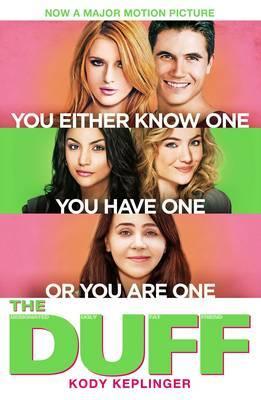 Title: The Duff
Author: Kody Keplinger
Published: 25/02/2015, Hodder Children's Books
Pages: 341
Source: Bought
Format: Paperback

Rating: 4/5

"Seventeen-year-old Bianca Piper is cynical and loyal, and she doesn't think she's the prettiest of her friends by a long shot. She's also way too smart to fall for the charms of man-slut and slimy school hottie Wesley Rush. In fact, Bianca hates him. And when he nicknames her "Duffy," she throws her Coke in his face.

But things aren't so great at home right now. Desperate for a distraction, Bianca ends up kissing Wesley. And likes it. Eager for escape, she throws herself into a closeted enemies-with-benefits relationship with Wesley.

Until it all goes horribly awry. It turns out that Wesley isn't such a bad listener, and his life is pretty screwed up, too. Suddenly Bianca realizes with absolute horror that she's falling for the guy she thought she hated more than anyone."
The Duff
is honestly such a fun read. But it also has an extremely important and serious message within the story. It isn't really the most original story, but it was very enjoyable all the same.
The Duff
is set around Bianca's (the protagonists) high school and various teenage hangouts around her hometown. Therefore, this is both relatable to the characters and the readers (as we've all been there).
The story is told from Bianca's perspective, and this added to the theme of the story makes her so relatable. I think we all go through that stage, both in high school and later in life, where we feel like the "ugly one" in the group. Even now, at 23 years old, I still have these feelings when I'm with my various friend groups. It must just be ingrained in all girls/women (and guys too).
The Duff
is wonderful at turning such an awkward topic into quite an uplifting and morale-boosting story.
Not only is Bianca relatable in terms of being the duff, but I also found her relatable in so many other ways. She isn't portrayed as this sweet little thing. Instead, she's a grumpy little bitch most of the time. What teenage girl isn't at some point? Heck, I still can be one! Haha! And she's so cynical. I actually found her hilarious. But I do think some of her decisions are rather questionable.
Wesley is your average manwhore-type character, but I actually quite liked him. He doesn't try to hide the fact that he is one either. He also listens to Bianca's problems too when she needs to vent and really does try to give her a shoulder to cry on. I think Wesley actually had a better grasp of their relationship than Bianca did. He accepted it a lot easier anyway. This, of course, doesn't excuse the fact that he was a massive asshole to Bianca to begin with.
The Duff
is a pretty predictable book and it isn't the most climatic story, but I really didn't mind this at all because the message behind the story is so extremely important. I think so many teenage girls would find this book an absolute godsend. The story is, for the most part, logical. Although I admit Bianca isn't always the most logical person. I also felt that the major plot lines were tied up nicely and I was happy with the way Bianca's story ended.
The Duff
is a wonderful book that everyone can relate to. I thoroughly enjoyed reading it. I would also recommend
The Duff
to teenage girls as Bianca's story is perfect for them.
Follow me via Goodreads, Twitter, Bloglovin, Instagram, and Pinterest.

Feel free to leave a comment.