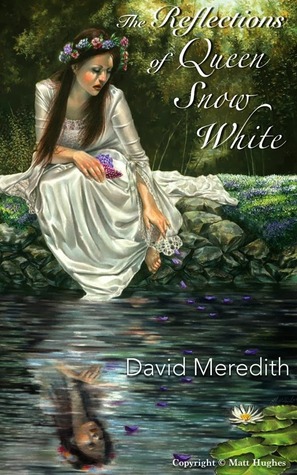 Title: The Reflections of Queen Snow White
Author: David Meredith
Published: 02/10/2013, David Meredith
Pages: 155
Source: David Meredith, in exchange for an honest review
Format: Ebook

Rating: 3/5

"What happens when "happily ever after" has come and gone?

On the eve of her only daughter, Princess Raven's wedding, an aging Snow White finds it impossible to share in the joyous spirit of the occasion. The ceremony itself promises to be the most glamorous social event of the decade. Snow White's castle has been meticulously scrubbed, polished and opulently decorated for the celebration. It is already nearly bursting with jubilant guests and merry well-wishers. Prince Edel, Raven's fiancé, is a fine man from a neighboring kingdom and Snow White's own domain is prosperous and at peace. Things could not be better, in fact, except for one thing:

The king is dead.

The queen has been in a moribund state of hopeless depression for over a year with no end in sight. It is only when, in a fit of bitter despair, she seeks solitude in the vastness of her own sprawling castle and climbs a long disused and forgotten tower stair that she comes face to face with herself in the very same magic mirror used by her stepmother of old.

It promises her respite in its shimmering depths, but can Snow White trust a device that was so precious to a woman who sought to cause her such irreparable harm? Can she confront the demons of her own difficult past to discover a better future for herself and her family? And finally, can she release her soul-crushing grief and suffocating loneliness to once again discover what "happily ever after" really means?

Only time will tell as she wrestles with her past and is forced to confront The Reflections of Queen Snow White."
The Reflections of Queen Snow White
is an original take on the classic story and I quite liked it. It did take me a little while to get into the story, but once I did I sped through it.
The story is set around a year after the death of Snow White's husband, Charming. I'm not too sure how I feel about Snow White. I sort of hated her to start with. She whined far too much about how life wasn't fair. Then again who wouldn't be depressed after the death of a loved one? But, I gradually started to warm to her after she began to see the light as it were. I did feel sorry for her in a way. But, the way she pushes aside all the happy times and ignores her daughter really annoyed me.
The Reflections of Queen Snow White
is told in the third person and follows Snow White as she reflects back on various points in her life. In one sense, she really didn't have an easy life, even after the death of the Evil Queen. The story was fairly predictable as I felt I knew how it was going to end well before hand. But, it still made me smile once I finished it. I wouldn't say the ending was particularly climatic, but it certainly has that eureka moment Snow White needed. The plot also tied up very nicely and there were no loose ends.
I definitely found
The Reflections of Queen Snow White
to be quite enjoyable and I would recommend this book to fans of fairy tale retellings. However, there is some mature content so it's definitely not for younger readers.
Follow me via Goodreads, Twitter, Bloglovin, and Pinterest.

Feel free to leave a comment.